Depurel for dishwashers
Depurel: very high quality products that make your dishwasher last longer.
Depurel helps to soften the water by an efficient regeneration of the ion exchanger resins and a strong bacteriostatic action.
Depurel works as well with the same benefits even in ordinary household water softeners.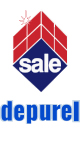 Extremely pure rock salt crystals
Selected for dishwashers and household water softeners.
The different sizes of the crystals are specially designed for slow and steady dissolving.
extremely pure rock salt crystals
special for dishwashers
natural extra-coarse rock salt
slow release
DEPUREL TABS
Multipurpose detergent for dishwashers 4-in-1 action tabs.
Cleansing action: thanks to its cleansing strength and oxygenating action it thoroughly cleans glasses, dishes, steel and eliminates even the most stubborn dirt.
Shining Action: contains a shiner that eliminates stains and limestone residues.
Anti-limestone action: complete with anti-limestone that protects from hard water and prevents limestone deposits.
Protective Action: thanks to its integrated formula it works at a low temperature, protecting decorations and colours and helping to reduce energy consumption.