Kristina Sedlerova tells us why she decided to use Sicilian rock salt for her artistic works and how the visit to the Realmonte mine inspired her.
"In winter 2017-2018 I got a strong intuitive thought on using natural rock salt as a material in my practice.
Rock salt with its qualities, history and physical characteristics like edibility and vulnerability to the environmental conditions (wind, water) are crucial points of my interest in this material.
Thus I asked Italkali about the possibility to visit the mine and choose the blocks of rock salt for my work.
During my visit to the salt mine - the underground, I experienced another dimension and another perspective to the things happening on the surface of the Earth. And I noticed that being under the sea level, without working GPS and WIFI, close to the heart of active volcano Ethna had a surprisingly calming down effect on me.
The salt mine of Realmonte is a deep, warm and dark web of tunnels. I guess it is easy to loose concept of time there very quickly and get endless dark space for imagination instead.
The scale of tunnels is stunning and the enormous cut of minerals and sediments in time and space gives fundamental impression.
In my previous artistic experience, I have been using moving image, stable, poorly degradable and artificial human made materials like polyurethane, extremely old and hard orbicular granite, lime stone, papier-mâché and blood.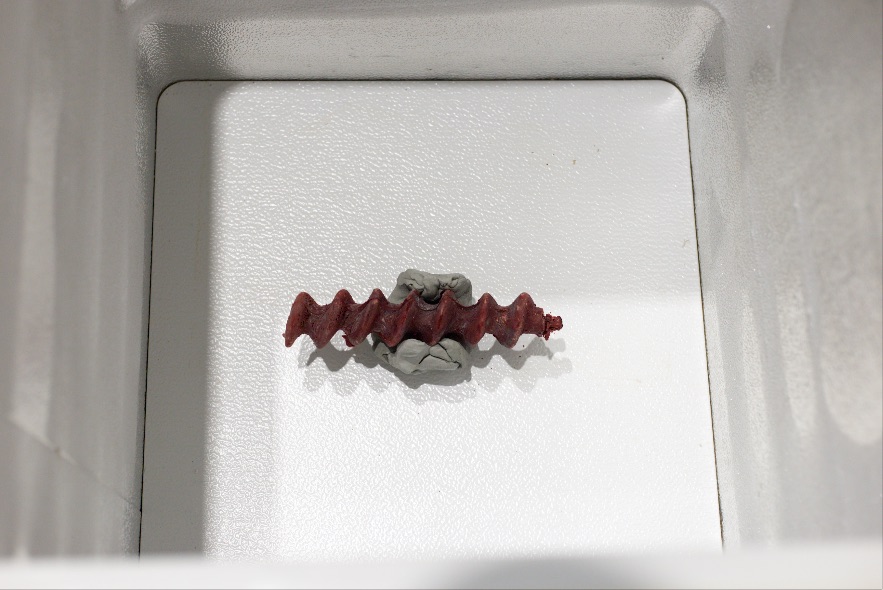 At the moment I am working on two capsule-like shapes from Realmonte rock salt monolites. This `don't look back´- salty capsules size 178cm x 40cmx 40cm and 190cm x 40cm x 40cm will be installed this Autumn in Helsinki-city area to become distructed through the time under the weather and urban circumstances. Also the `don't look back´ intervention will spice up local Baltic Sea, which has low salt levels in Helsinki region.
I see the two salty capsules as two human bodies who looked back to their past and because of that transformed to the salt columns as characters in Greek mythology and Bible.
Kristina Sedlerova, the Artist
Kristina Sedlerova (b. 1987) works with geological sediments, human made poorly degradable physical matter, immaterial sources and language deposits. She makes transitions in raw materials and the information history they are loaded with incorporating them into varied forms and sizes. Her works have been exhibited at MUU Kaapeli Gallery, Helsinki, Eemil Art Museum, Lapinlahti, Colombo Art Biennale, Colombo, FISAD 2015, Turin, Exhibition Laboratory, Helsinki, Taiga-Space, Saint Petersburg and Sorbus-gallery, Helsinki. She lives and works in Helsinki.
5 giugno 2018